The BDA Audit provides a third-party assessment of drilling operatives and their equipment, to confirm that they are safe and competent to carry out their work. The audit is officially accredited by industry awarding body, MPQC.
The BDA is a non-profit organisation and Audit fees purely cover the cost of the half day on-site assessment and any associated administration fees.
---
If you would like to book a BDA Audit, please complete the online application form found below:
Individual – For single operative applications
Crew – For applications for Lead Drillers AND Support Operatives
The documents you will need to provide with your application are outlined below:
Copy of applicant's Vocational Qualification (NVQ/SVQ) certificate (Front AND Back)
Copy of applicant's CSCS card (Front AND Back)
Copy of applicant's First Aid certificate
Once we receive your application, with all required supporting documentation, a BDA Auditor will be in contact directly to arrange a site visit.
Please note: If a Support Operative is audited as part of a full crew, their audit is free of charge. It is the same price for a Lead Driller as it is for a Lead Driller, plus their Support Operative (provided that the Support Operative meets the criteria – i.e. has a VQ, CSCS Card and First Aid certified).
A summary of the BDA Audit process is below, however full explicit details are covered in the BDA Audit Handbook which is now available for all Auditees, employers and interested parties here: BDA Audit – Handbook.
Why do you need a BDA Audit?
If anything goes wrong during, or as a result of the works involved in a project (injury, engineering failure, inaccurate/poor data, fatality etc), competence of all those involved will be questioned by either HSE, the police or a judge.
If employers or clients cannot prove that the people being used to carry out work are competent to do the job, then they become liable.
Failure to demonstrate this fundamental requirement can result in a personal prosecution to the worker, the employer or both together. With potential unlimited fines and maximum custodial sentences available to the most severe of breaches, protection against the direct and indirect implications is paramount.
The BDA Audit offers a third party, independent assurance to assist demonstration of legal obligations and compliance with industry Standards, guidance, and good practice.
The BDA Audit is the only competence scheme which enables clients, consultants, and contractors to comply with BS 22475 Parts 2 and 3.
What is covered in a BDA Audit?
The Audit looks in depth at the individual's current competence, their rig and equipment. Legislative requirements feature heavily. The BDA Audit is available for all members of a drill crew, whether Lead Driller or Support Operative and assessments can be carried out for all drilling disciplines.
Some Audit requirements include:
Emergency First Aid at Work certificate.
Adherence to PUWER regulations and lifting equipment good practice for the drilling rig and accessories, along with inspection of all drilling tools,
Appropriate method statements and risk assessments
A full extensive list of areas covered by the BDA Audit can be found in the BDA Audit Handbook.
Who carries out the BDA Audit?
Following a thorough consultation process in mid-2020, involving the BDA Chair, BDA Management Committee, the BDA's currently approved Auditors, and other involved relevant parties, it was decided that administration and Quality Assurance of the BDA Audit needed addressing.
Following an extensive selection process, the BDA can now confirm that these services will be provided by leading geotechnical training company, Equipe Group.
Keith Spires, Equipe Group, will head up the administration process of the BDA Audit team, and provide quality assurance for all Audits, the Audit content and development will be handled by the BDA Health & Safety Sub-committee, along with the BDA's currently approved Auditors – Lee Allardyce, Philip Dainton and Andrew Frogley.
The Audit management is a concerted, collaborative team effort, to increase the quality, consistency, and robustness of the BDA Audit. It is also intended that the entire Audit become third-party externally verified and accredited by a prominent UK awarding body.
How are BDA Audits carried out?
BDA Audits are carried out by experienced assessors from the drilling industry and take half a day.
BDA Auditors will conduct the BDA Audit against specific Audit criteria, to determine Audit findings.  Audit findings provide factual evidence collected by Auditors. to indicate conformity or non-conformity, with an aspect of the Audit criteria – i.e. the latest and current Standards, Guidance, Legislation and Regulations, which apply to all land drilling works in the UK.
Should any non-conformities be identified, the Auditee and employer must rectify these issues and close them out with their assigned BDA Auditor within a set time period (not exceeding 21 days from the Audit date), before an Audit card can be issued. Failure to comply will result in withdrawal of the card and loss of Audited status.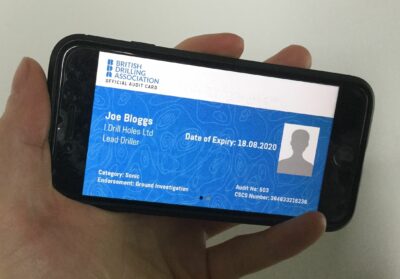 The BDA Audit Card is now issued digitally via our Audit communication partner, Cardskipper. Once Auditee's have successfully completed their Audit, they will receive instructions on how to download the free Cardskipper app and install their digital BDA Audit eCard on their smartphone. Digital image copies of the Audit Card will also be available following completion of Audit.
The Audit is available to BDA members, at the reduced rate of £435 (+ VAT), and to non-members, at the sole discretion of the BDA, for £795 (+ VAT) . Its annual renewal provides ongoing proof of current competence.
By passing the Audit your name will appear on the BDA's website page of Audited drillers, however, this does not confer any BDA membership rights.
The full Terms and Conditions for the BDA Audit can be found here.
For any further information, please use the dedicated BDA Audit contact details below:
Phone: 0800 0385 969
email:  audit@britishdrillingassociation.co.uk