December 17, 2020
Celebrating the Best Talent in the Industry
Welcome to the BDA Awards 2020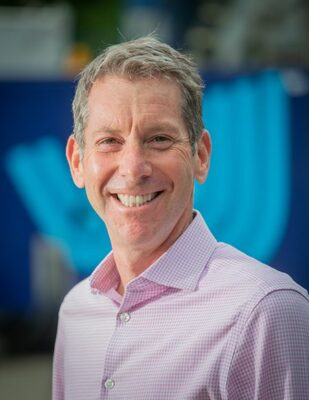 This introduction would normally be given by the Chair at the BDA Dinner Dance – trying to make themselves heard over 250 revellers enjoying their after dinner coffee (and port and wine and beer etc!). The awards have been a highlight of the dinner dance and are one of the few opportunities we get to showcase everything that's best about our industry and celebrate the people that make a difference.
Sadly, under current circumstances the dinner dance this year has had to be cancelled, but we felt it important that the awards continued and that the industry still recognises the talent, the people who stand out and embody the principles of the BDA and make a contribution for the better. Especially this year where ground investigation, land drilling and construction in general have been notable in that many of us have continued to work throughout lockdown but often under difficult conditions.
I want to thank every company and individual who entered the awards – we had the most entries ever received, and their high standard meant that there were no easy decisions for the Judges.
But decisions were made, and so onto the Awards:
---
Lifetime Achievement Award
Unable to split two submission, this year the BDA has decided to confer two full Lifetime Achievement Awards.
This award is about recognition of those who have made an enduring impact on the industry and this year, at nearly 80 years old and still contributing, I am pleased to award the honour to Stan Dronsfield of Boode UK and Alan Pardoe.
I have to declare a personal interest in this category – Stan is responsible for introducing me to the BDA by inviting me to the 1997 Dinner Dance – and look where that has ended up. He has been a been a trusted supplier to the GI and water well industry for over 25 years – his expertise and patience has got many a young engineer out of trouble too.
Like many of the best in our industry Stan started his drilling life on the levers – commissioning Hydreq Gryphon rigs – some of which I'm told are still operational today, though hopefully not by BDA members!
Stan has been a loyal supporter of the BDA and its aims. Thank you Stan, and congratulations.
Alan has an achieved a remarkable 28 years of experience working as a CP Assistant Driller, Lead Driller and Drilling Forman and, in an equally astonishing achievement in an industry known for transitory employment, 21 years with Bam Ritchies.
Alan has been recognised for his leadership, advising his colleagues, clients and sharing his massive knowledge and experience with his colleagues and with younger drillers.
---
Apprentice of the Year – The Derek Oakes Award
Awarded in honour of Derek Oakes who was commitment to younger people in bringing them up and giving them the values of his experience; the first recipient of this award was presented at the 2012 BDA Dinner Dance. The winner of this is award has been selected by Charlie Allardyce who has delivered the bulk of this Apprenticeship. Also, an employee of Bam Ritchie's the winner is Ian Slater.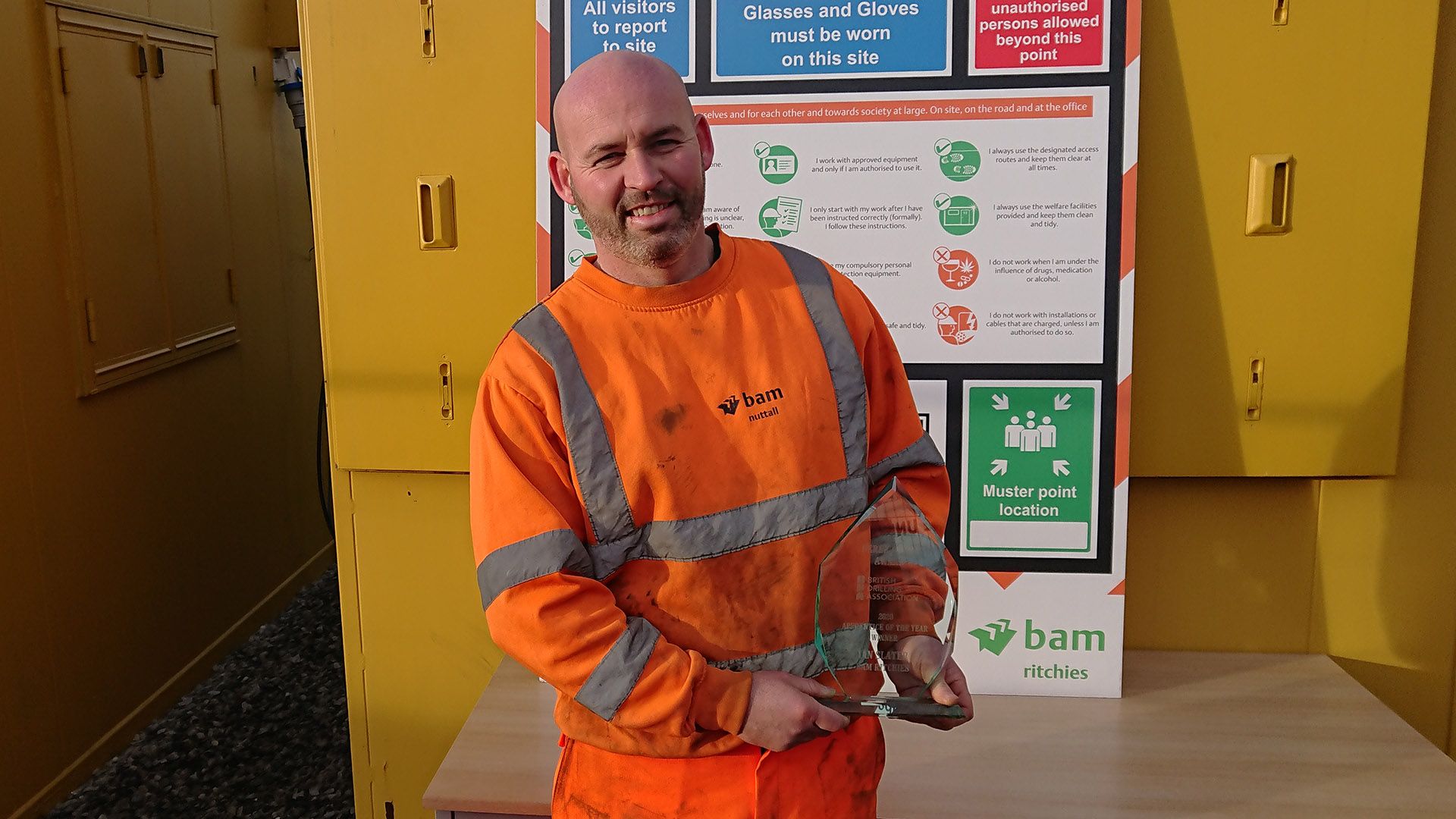 Ian has already amassed a wealth of knowledge from his experience and has used that knowledge to throughout all the sections of the Apprenticeship. He proactively asked questions and joined in with group discussions as well as sharing good practices with other apprentices.
The module coursebooks he filled out contained good detailed answers to all questions and written practicals. Ian is knowledgeable and can discuss different drilling techniques CP, Rotary and also demonstrate a good knowledge of in situ sampling.
Ian has shown an enthusiasm to learn and to progress within the drilling industry. We wish Ian the best for his future career.
Charlie also says 'I would like to personally thank all the apprentices for paying their full attention during the modules and asking lots of good questions throughout. The 7 apprentices from Arcadis, BAM Ritchies, Soil Engineering and WJ Groundwater really are a testament to their companies and are a credit to the drilling industry. I wish them all the success'.
---
Industry Excellence Award
With so many entries it is great to see the amount of innovation and creativity our sector is using to meet the objectives of our customers, and against this backdrop, the winner is Atkins for its "Dig to Share" project, a collaboration with Morgan Sindall and BGS, which encourages the sharing of information via BGS data base on digital borehole.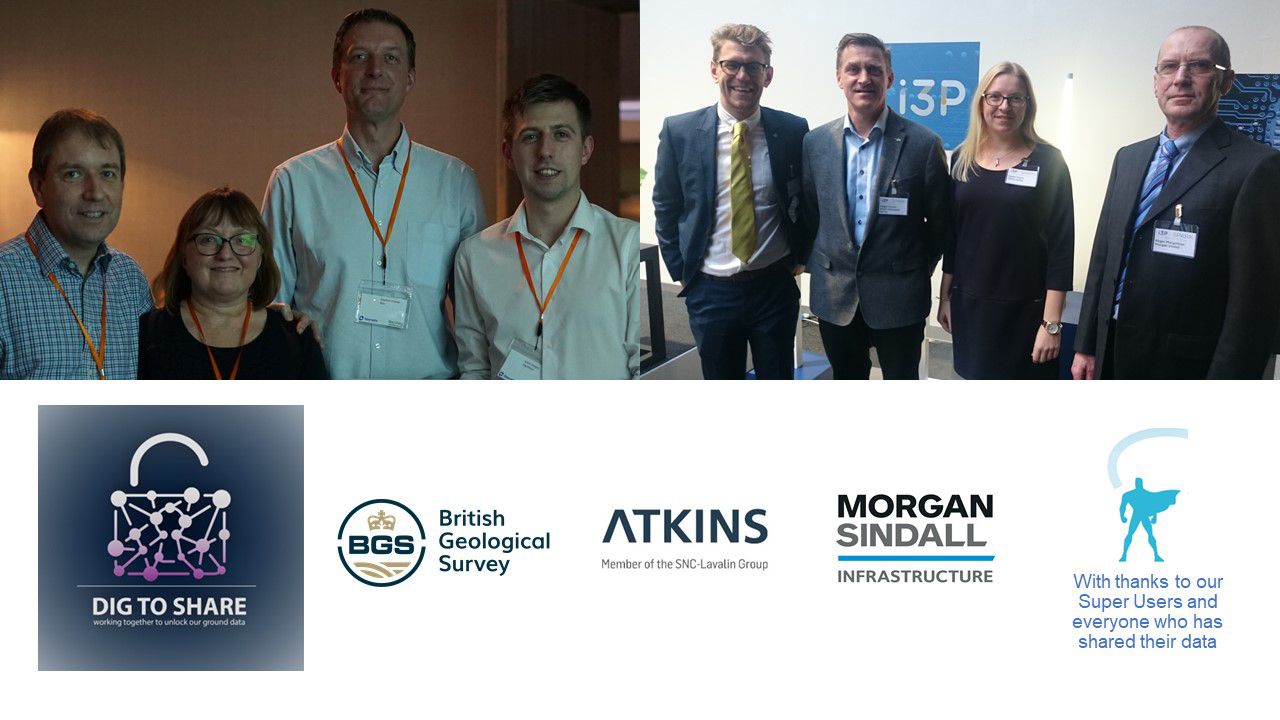 The team obtained funding to support the project initially which involved; liaising with contacts across the industry, key clients, and government organisations, etc., on benefits of sharing, presenting, exhibiting and webinars at various industry events to spread word.
As a result of the project some 30,000 additional digital borehole data are available to everybody on BGS borehole data base. Post-funding the team has continued the project by voluntary support and digital data is still being obtained and awareness promoted, which will save industry significant time when searching for relevant data on ground/site conditions from previous real data obtained from areas in UK.
This initiative must be congratulated by all sectors of the industry and the voluntary time everyone involved put into the project and the result – lots of free digital data for everybody!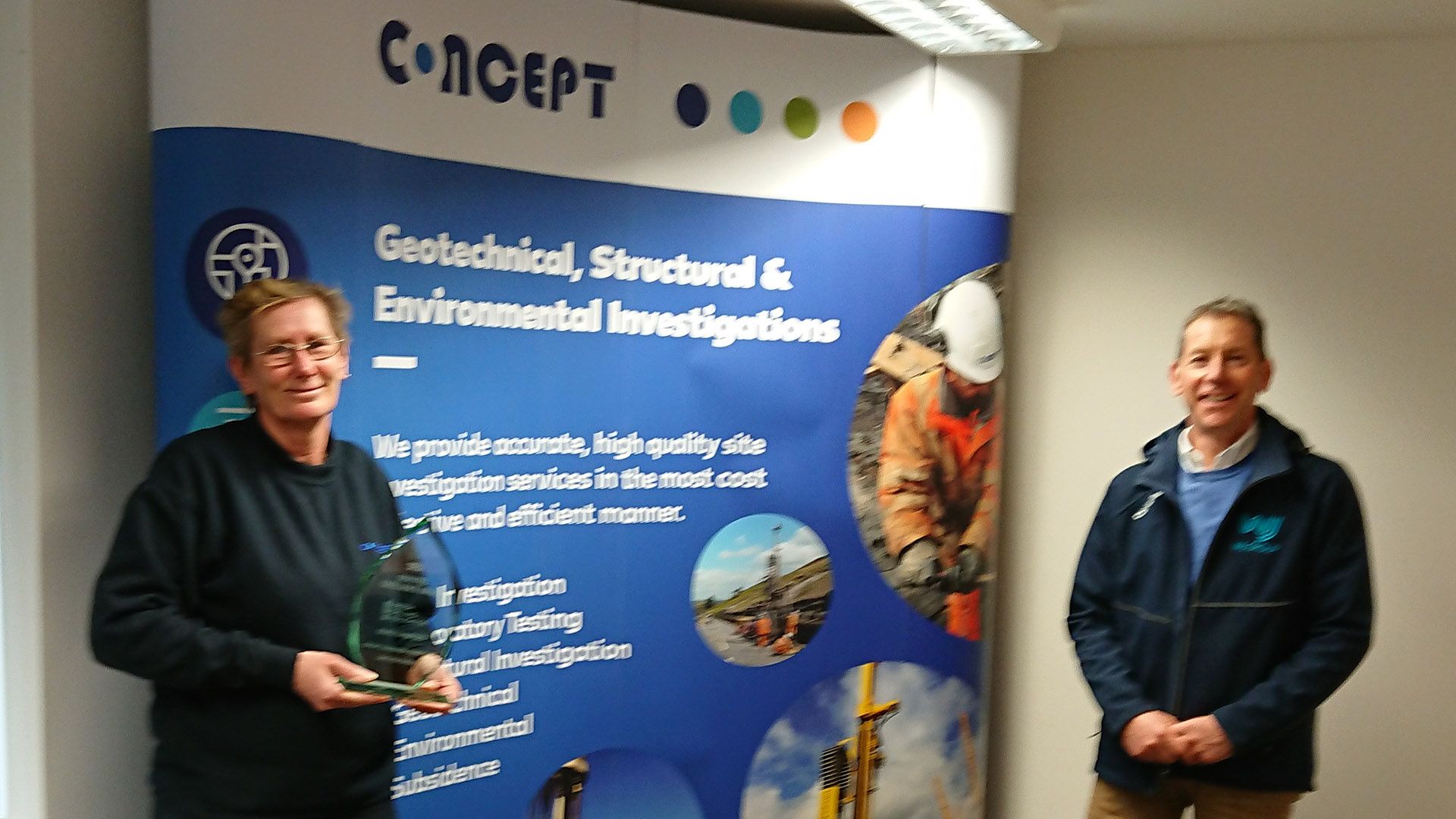 Highly commended was Concept for their HS2 in situ Pile Investigation. Rising to the challenge set by the client to investigate the presence and condition of piles and other foundation structures along the HS2 route in West London.
Using a combination of traditional drilling, coring, restricted access drilling from shored inspection pits, visual inspection and downhole geophysical testing involving parallel seismic and magnetometer testing the contract provided the tunnel designers with a complete data set to ensure the risks of tunnelling impacts on existing foundations was minimised.
---
Safety Initiative Award
Again, it was great to see a selection of entries but the winner this year had to be Socotec's Coping with Covid initiative.
Coping with Covid (CWC) is a safe system of work to execute ground investigation activities while maintaining social distancing, therefore reducing the reliance on PPE/RPE. It is a collaborative response to the global pandemic by Socotec and Geotechnics with the assistance of Macklin Geotech (and support from TerraRoc).
The aim of CWC was to review drilling and associated operations where social distancing could not be maintained and ensure we could achieve this through changing working practices to suit. The standard approach had been for operatives to wear face masks and proceed as normal.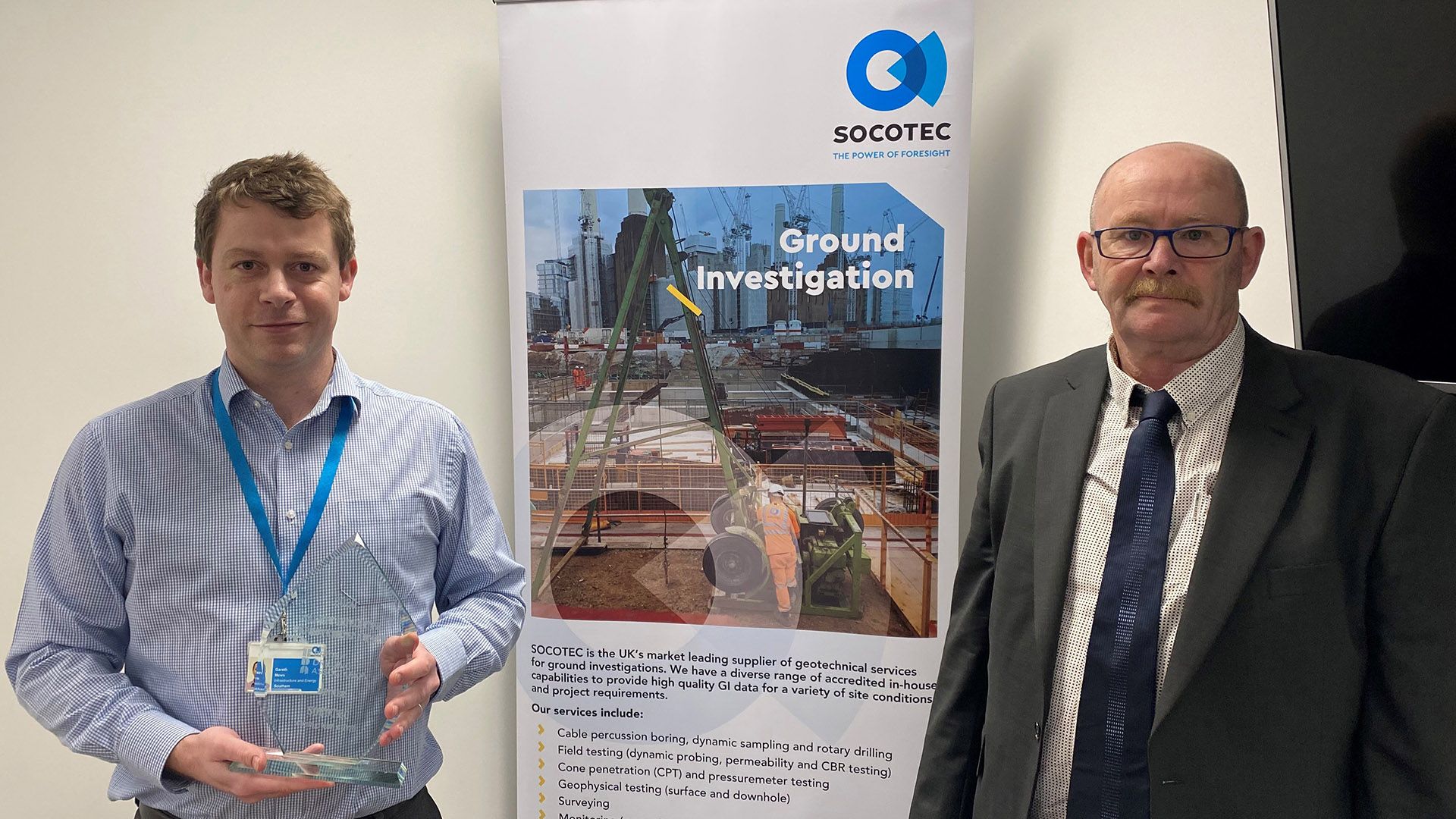 In the face of a global pandemic, it did not strike Socotec as good practice to implement control measures at the bottom of the hierarchy of controls, without considering other solutions – this also went against Construction Leadership Council and government guidance at the time.
Socotec also found it morally questionable to be competing with key workers in the NHS for PPE/RPE when their need was far greater than that of its employees.
The initiative was delivered to workers with a 35-minute entertaining and informative presentation
---
Lead Driller of the Year
In a crowded field the winner of this category has to really stand out and not only demonstrate excellent drilling skills but to engage with the vision and purpose of the BDA – to improve standards in Health & Safety, Quality and Technical Proficiency.This winner of the 2020 Lead Driller of the year Award is Brett Hawes of BH Drilling.
Brett has been a Lead Driller since 2008. As a support operative he was trained and mentored by Fugro and established himself as an independent drilling business in 2012.
Even before the job starts Brett is proactive in the preparation of site documents, risk assessments and the project planning. Brett's equipment is immaculately presented, and he keeps a well organised and tidy drill site.
His communication with the project team is professional and he deals with adversity and change calmly and adapts to the situation.
He is also thoroughly committed to upholding high health and safety standards both in the way he operates day to day on site and the way he maintains and operates his own rigs and drilling equipment.
Brett's knowledge of working in a variety of ground conditions means that he can be depended upon to successfully complete a package of works, whether as part of a site investigation borehole or constructing a well for dewatering purposes, to the required specification as efficiently as possible. He regularly uses this knowledge to identify and raise potential problems before they occur or to offer solutions in unforeseen circumstances. He is also more than happy to give advice on upcoming work that he may or may not be involved in which is more than reliable.
Since 2018 Brett has directly employed Lead Drillers and Support Operatives and successfully maintained high standards and remained an active driller himself which is often a difficult balancing act. I am pleased to present the award to Brett in recognition of his achievements.
Highly commended in this category are Lee Minto of BAM Ritchies & Daniel Perrett of Socotec, for their commitment and dedication to the industry as well as their unfaltering levels of professionalism.
---
Congratulations to all of our deserving winners and all our honourable mentions this year. All that remains is to wish you all a wonderful festive season and a safe and prosperous 2021.

Richard Fielden
Chair of the BDA