March 8, 2021
From 1st May 2021 the newly accredited BDA Audit will be officially launched. After undergoing updates and improvements to the administration and reporting process, the audit will be formally accredited by the Minerals Product Qualification Council (MPQC). Following the awarding of the accreditation, the assessment and quality assurance of the audit will be externally verified by an industry-recognised training and assessment body, bringing the audit fully in line with BS 22475-3.
This accreditation will provide all auditees and employers with increased confidence that the BDA Audit is a robust and quality auditing scheme.
1st May will also see the introduction of a newly formatted audit template, which will include a more in-depth range of questions resulting in a more rounded, complete audit, as requested by our audit team, and many of our participating contractors. The new set of questions will put a greater focus on the auditee's technical skillset. The questions will largely focus on aspects of on-site work such as drilling, sampling and testing, particularly examining the auditee's adherence to approved procedures and their understanding of the associated Standards and guidance.
The introduction of a more rounded and closely managed audit has also impacted on the costs associated. In order to achieve this accredited status, the BDA have invested heavily into new technology, free phone numbers, dedicated emails for the audit teams, cloud-based auditing software and file storage and a new digitised e-card. With all these costs taken into consideration, as well as the annual fees due to MPQC to apply for accreditation, the BDA have agreed to increase the price of the annual BDA Audit.
The current charge for a member for a BDA Audit is £390 + VAT; a fee which has been in place for the last five years. This fee has always been maintained on a not-for-profit basis, and currently the costs associated with this audit fee are as follows: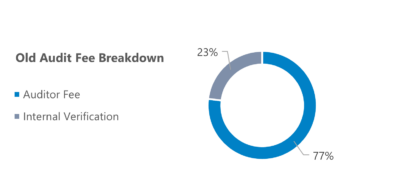 The general cost of Management & Administration of the audit is currently approximately £2,000 per month. Since its introduction this cost has been absorbed into the BDA Membership fees, and this is expected to continue for the foreseeable future meaning these monthly fees are not factored into the price increase.
However, the costs associated with the improvement of administration, data management and auditing process will now be covered by a small increase in audit fees. For transparency, these additional costs are explained below:

With the audit continuing to grow in participation numbers, the additional costs have been averaged across all the predicted audits for a calendar year, and as such the charge for the BDA Audit will only be increased by £45 to a total of £435 + VAT for members and increased to £795.00 + VAT for non-members.
To help members cope with this increase in the short term, the BDA are introducing an offer whereby all audits booked during the month of May will be valid for up to 14 months, provided the audit is completed within 30 days of initial booking.
Drilling Support Operative audits will still be offered at no cost, permitting they are carried out at the same time as the Lead Driller.
The BDA Audit provides:
A quality assured, independent audit in accordance with BS22475-3
An audit certified by a conformity assessment body
Internal quality assurance of all audits
Dedicated communication channels by phone, e-mail and website
Audit handbook (downloadable and hardcopy)
A totally digitised in-field audit process
Central storage of data on the BDA's secure SharePoint system
Digitised BDA / MPA CSCS Audit Card
Accreditation with CSCS with ability for BDA to offer CSCS touch screen tests (avoiding requirement to visit test centre)
The updated audit template and content will also allow the BDA to produce a thorough report on industry good practice, non-conformities and general areas for increased education and awareness. These reports will be used to help shape the BDA's output from their Training & Education, Health & Safety and Technical Committees to continue to help raise standards across the industry.
To find out more about the BDA Audit or to register an operative, please get in touch. Full Terms and Conditions, along with registration forms and the Audit Handbook can be found on the BDA website. Alternatively, email audit@britishdrillingassociation.co.uk for more information.