May 24, 2022
The British Drilling Association (BDA) is delighted to award Simon Spires, Lead Driller for Geo Drill Limited, as the first Driller to be awarded a BDA Audit, specifically for a closed loop geothermal installation.
The BDA Audit, which was undertaken at Comberton College near Cambridge at the end of April 2022, was completed by BDA Auditor Lee Allardyce, who had helped to coordinate the inclusion of the geothermal drilling aspects into the BDA Audit format.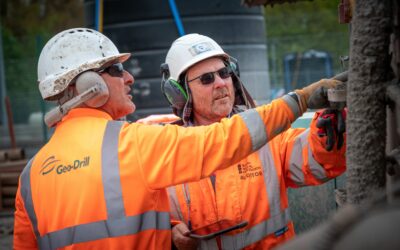 Pictured left to right:  Simon Spires, Geo-Drill and Lee Allardyce, BDA Auditor.
Commenting Lee said: "More than 90% of the Audit is the same for any rotary drilling process – we look for the same high standards in the machinery being used, operator competence and processes, whether the borehole being drilled for is ground investigation, geothermal, or any other activity. We then observe and assess the Driller's knowledge and techniques on the key elements of the process, which for geothermal includes mud control, loop installation and grouting. I'm pleased to say that Simon was a model candidate – the equipment and site were excellently organised, and Simon demonstrated a high level of expertise throughout. He was also friendly and cooperative – which makes my job much easier!"
Simon's Manager, Geo Drill Managing Director Paul Turnbull, said; 'I'm delighted for Simon, he's a great driller who loves his job and is proud of what he does. The BDA Audit is proof that he's not only a great machine operator but is also safe and takes care with his installations. Having a BDA Audited Driller is my reassurance that I'm providing my customers with a quality job, and we will be putting more of our staff through the scheme."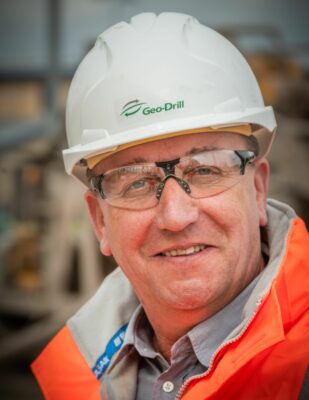 Paul Turnbull, Managing Director, Geo Drill
Geo Drill is one of the UK's leading geothermal drilling companies and has been at the forefront of the geothermal drilling sector since 2006. Geo Drill was consulted on the proposed content of the Audit because of the experience and involvement that the company has in large scale geothermal projects.
The Audit was required to address the lack of a recognised standard for a geothermal loop installer. Richard Fielden, Director and former BDA Chair, explains: "There has been growth in recent years of geothermal installations, particularly in domestic settings, and  with this growth there has been an increase in new drilling companies and drillers, who may not have the knowledge or experience to fully appreciate the importance of environmental protection, health and safety of workers and the public. The negative effect is the potential for a poor-quality installation on the thermal properties of the borehole. The BDA Audit provides a quality mark to the entire supply chain of project owner, building contractor, geothermal designer and geothermal installer that the installation is being undertaken by an appropriately qualified person."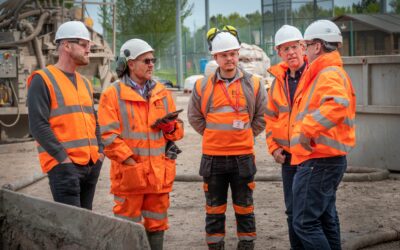 Pictured left to right: Joel Stevens, BDA; Lee Allardyce, BDA Auditor; Callum Allardyce, BDA Auditor; Richard Fielden, BDA and Paul Turnbull, Managing Director, Geo Drill.
The BDA estimates that around 125 lead drillers are engaged in closed loop installations. From 2023, in order to gain the vital MCS Certificate for an installed system, it will be a requirement to prove that the ground source loop was installed by an audited driller. It is hoped that soon geothermal drillers will proudly join the hundreds of audited ground investigation drillers with the accredited BDA Audit.
For more information about the BDA Audit, visit –  BDA Audit | British Drilling Association | Competence | CSCS, NVQ